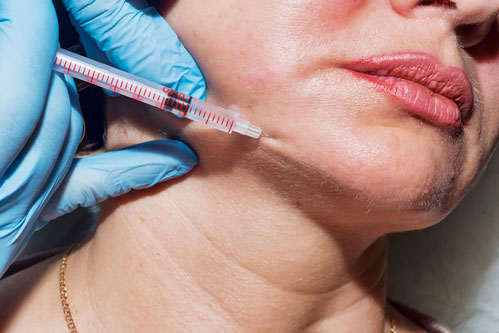 Like chin enhancement, dermal fillers can be used to improve the jawline. If you feel like you have a weak jawline or you have noticed the ageing changes affecting your jawline, this may be the right treatment for you.
Jawline filler is both popular in men and women. Men wish to have square jaw and women more feminine triangular jaw. Jawline fillers can achieve a subtle but noticeable change in the contours of your jaw.
Although there are permanent dermal fillers which can be used, we only use temporary hyaluronic acid dermal fillers. During the treatment, a dermal filler is injected along the jawline. We like to use advanced cannula technique which reduces the risk of bruising to a minimum. Fillers can also fill in loose skin creating youthful and more defined jawline.
The most common side effects are mild swelling, bruising and redness of the treated area which resolve within few days.
The treatment lasts 10-15 minutes and you can continue with your normal daily routine straight after the procedure.
The results last for 6-12 months and it is recommended to repeat the treatment to retain the more defined and youthful jawline contour.